About Us
Chairman's Message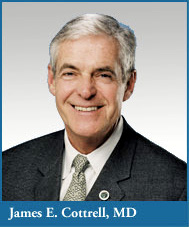 Welcome to the Academic Group, consisting of two independent member-owned insurance companies and a full-service medical professional liability management company.
For our New York administered and licensed company, Academic Health, we are proud to be entering our third decade as a faculty-owned medical malpractice carrier. Academic Health was created to provide teaching physicians and dentists with value-added professional liability coverage, superior service and legal representation, and a focused concern and attention to each member's insurance needs as leaders in academic medicine, clinical education and research.
As medical professionals, you know that liability insurance continues to be one of the biggest issues confronting us as clinical educators. Increasing litigation has a devastating impact on faculty physicians and dentists and their mission to train future generations of clinicians to serve our communities.
Academic Health was licensed in 1990 in response to a professional liability crisis. Since that time, we have had what we like to think of as a salutary effect on the business, providing access to state-of-art continuing education programs in risk management, excellent policy coverage and pricing, creating a 24-hour-a-day legal hotline and, when necessary, guaranteeing access to excellent defense of claims. We have highly skilled staff of insurance professionals to help beat the difficulties confronting physicians in a state characterized by the AMA as a medical malpractice crisis state.
We are the leaders in the medical professional liability industry in terms of our understanding and knowledge of insuring clinical educators. That, in turn, translates into better designed products and a superior claims history. Not only have we successfully defended many cases, we have saved faculty money. The results include saving the SUNY Faculty Practice Plans more than $100 million since inception.
Our New York company, Academic Health began life in New York State, one of the most challenging environments in the country from both a claims severity and regulatory point of view. We have now created a new independent insurer or Risk Retention Group based in Vermont that now offers our products and excellent services to medical school faculty and private physician groups throughout the country. We also formed a management organization so that other entities might retain the services of our highly skilled successful insurance professionals to create or improve on existing captives.
I would like to encourage you to explore our Website, talk to your colleagues, and then contact us if you are interested in finding out more about how we can help you meet your professional liability insurance needs.
We look forward to the opportunity to serve you.
Sincerely,
James E. Cottrell, MD
Chairman of the Board
Academic Health Professionals Insurance Association - A Reciprocal Insurer